Firestone EPDM rubber flat roofing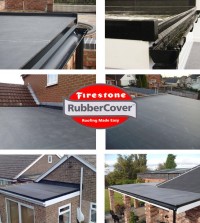 Epdm Firestone flat roofing system
We supply and fit Firestone EPDM rubber, with over 100 years within the rubber industry we believe they are the market leaders.
Firestone specially designed the Firestone EPDM Roofing System for flat roofing applications.
The system is based on high performing Firestone RubberCover EPDM rubber membranes and a limited range of accessories offering a watertight and durable roofing solution.
The Firestone RubberCover™ EPDM Roofing System is the ideal, durable solution for any flat roof or low pitched roof such as: extensions, verandas, dormers, porches, garages, carports, garden sheds, balconies, gutter lining, and many more useful uses,
Firestone RubberCover™ EPDM Roofing Systems offer a unique combination of features and benefits:
Superior durability
Seamless sheets in 1 piece
Very low life-cycle cost
Flame-free and easy installation
High flexibility and elongation it does not split or crack
Environmentally friendly
Recovery of rainwater
Fire resistance
50 year life expectancy
We are that confident with the product,we offer All our Firestone EPDM flat roofs with a 25 year guarantee,
Call now on 07429212674 for your free no obligation quote,